Warranty
In the rare event that your product fails to work due to a defect in workmanship or materials, WOW Tech team will, at its discretion, replace your product with the same or a similar product according to the warranty offered.
Warranty claims must be made within the product warranty period. The warranty period begins on the original date of purchase. We need to add that the warranty on a replacement is from the original date of purchase on the receipt. The warranty on a replacement is from the original date of purchase on the receipt.
Product covered under 2-year warranty*
We-Vibe® Classic, We-Vibe® 4 Plus, Wish by We-Vibe, Pleasure Mate Collection, Dreamy Desire Collection, We-Vibe® Anniversary Collection, Tango by We-Vibe, Touch by We-Vibe, We-Vibe® Sync, We-Vibe® Unite, We-Vibe® Match, Pivot by We-Vibe, Verge by We-Vibe, Ditto by We-Vibe, Sensations Unite Collection, Sensations in Sync Collection, Gala by We-Vibe, Jive by We-Vibe, Bloom by We-Vibe, Nova by We-Vibe, Rave by We-Vibe, Vector by We-Vibe, Chorus by We-Vibe, Melt by We-Vibe
The warranty covers manufacturing defects only. It does not cover normal wear and tear of parts, personal preferences, damage caused by misuse, loss, abuse or negligent handling. It also does not apply to any unit that has been subject to tampering.
*warranty period may be longer where required by law
After completing the Warranty RMA Request Form our Customer Service Team will contact you and sent you further instructions. Please do not send any product back to us without contacting us first. If your Warranty claim is valid we will cover the shipping costs for the replacement item.
Shipping costs for warranty claims
1. Complete the Warranty and RMA Request Form to obtain a Return Merchandise Authorization (RMA) number and return instructions. We cannot accept returned merchandise without an RMA number.
2. When your request is successfully submitted, you will see a confirmation notice and a case number. Note that this case number is NOT your RMA number.
Once we validate the information provided in the Warranty and RMA Request Form, you will receive an email with a unique RMA number and return instructions. This typically occurs within 3–5 business days.*
3. Combine the items to be returned, the RMA number and proof of purchase in a single package and follow the return instructions provided. All items returned must be shipped prepaid as described above.
We will inspect the items returned and send an email to confirm how the return will be processed.* If the warranty claim is approved, you will receive a replacement item within 7–10 business days. If you have questions, email us at care@we-vibe.com.
*If you do not receive an email from us, please check your Junk Mail or Spam folder in case the email has been misdirected.
We-Vibe products are not intended for medical use and have not been clinically tested. Discontinue use if any pain, irritation or discomfort occurs. To avoid injury or aggravation of pre-existing conditions, this device should not be used on swollen or inflamed areas or skin.
Where to find serial number?
Your We-Vibe serial number is located on the bottom of the box above the larger barcode. It is formatted as: *########* or *########_#####*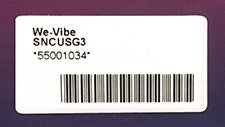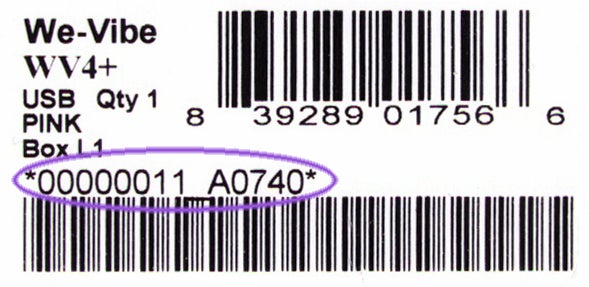 Warranty & RMA Request
Submit your Warranty/RMA Request using this form